Ginza
In Ginza, Japan's largest commercial district, we created new flows of people from the Sukiyabashi Crossing at the western entrance to help revitalize the area.
Create a new form of "prosperity" for a city
where tradition and innovation coexist.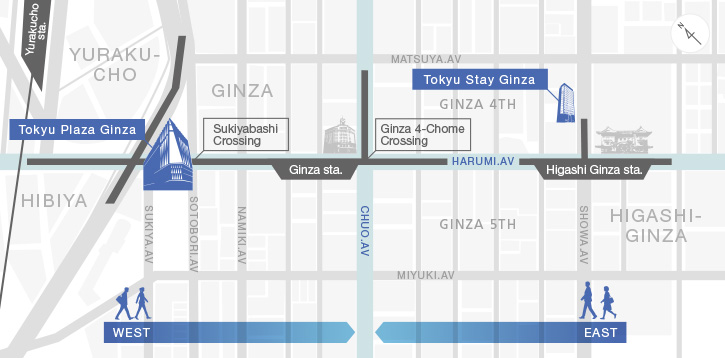 Ginza attracts many visitors from all around the world, with its high-class and illustrious historic shops and simultaneous ability to reflect the latest trends. We sought to pass on the allure of the city where tradition and innovation coexist, which inspired us to open Tokyu Plaza Ginza, a new landmark in Ginza

The Ginza area starts from the Ginza 4-chome Crossing and consists of Chuo Dori St., the main street that runs north to south, and Harumi Dori St., which runs east to west. The Sukiyabashi Crossing along which Tokyu Plaza Ginza stands faces Harumi Dori St. on the western side of the area. Just to the west is the business area of Yurakucho and Hibiya, where up until now the flow of people tended to be split.

The construction of the area's largest commercial facility at the Sukiyabashi Crossing led to a more active flow of people from Ginza's western entrance to the eastern entrance (around Kabukiza Theater), where we expect to increase the mobility of people in the area. We will strive to realize new forms of "prosperity" for the area in an effort to make the Sukiyabashi Crossing another Tokyo landmark like the Shibuya Scramble Intersection.
TOKYU LAND CORPORATION × Ginza
Tokyu Plaza Ginza

Ginza 5-chome, Chuo-ku, Tokyo
B5-11F
Opened in March 2016
Tokyu Stay Ginza

Ginza 4-chome, Chuo-ku, Tokyo
B1F-15F
Opened in March 2016