Top Message
As a core company of the Tokyu Fudosan Holdings Group,


We will become a company that is appreciated the most by local residents through value creation by cooperation.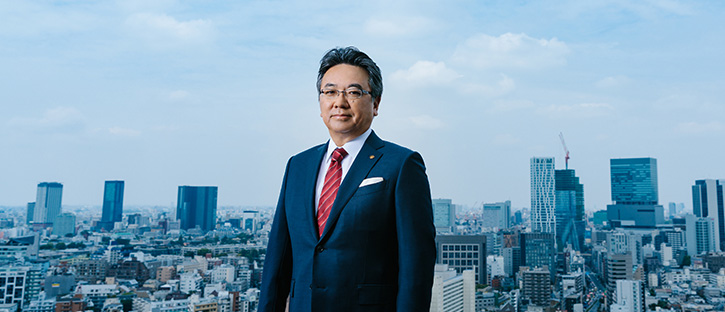 Tokyu Land Corporation is a comprehensive real estate company that operates an urban development business, a residential business, a wellness business, overseas businesses, etc. as a core company of Tokyu Fudosan Holdings Group.
Since our founding in 1953, we have consistently pursued the creation of value with new real estate businesses. We have expanded our business domains in response to changes in the times and social changes from the development business to the property management business, the real-estate agent business and, further, the retail business advocating restoration of "Work done by hand." These operations are now running as independent businesses as Tokyu Community Corporation, Tokyu Livable, Inc. and Tokyu Hands, Inc. as subsidiaries in the Group.
Shifting the main source of revenue from real estate sales to the leasing of real estate such as office buildings and commercial facilities from 2000, we have overcome the bursting of the bubble economy and the Lehman crisis. We also entered the real estate securitization business early to build a strong business structure based on stable revenue.
Aspiring to play a central part in the medium- and long-term management plan known as Value Frontier 2020, which serves as the guideline for the Group, we are pursuing businesses based on our strengths, namely our stable earnings power and our strong development capabilities backed by an impressive track record. Our target year is 2020, when the Olympic and Paralympic Games will be held in Tokyo.
In our urban development business, we are proceeding with large-scale projects in the area around Shibuya Station (Dogenzaka, Sakuragaoka and Nanpeidai), Hamamatsucho and Takeshiba, as well as Tokyu Plaza Ginza, a large commercial facility that celebrated the first anniversary of its opening. To support the growth strategies set by the government and meet increasing demand for inbound tourism, we are working to increase the competitiveness of Tokyo as a global city. Above all, we are playing a leading role in Greater Shibuya, which includes Shibuya Ward - our home turf - and the surrounding areas.
I am convinced that new value creation through cooperation is the best way to respond with agility to changing social issues and to continue to be valued by society. As a core company of Tokyu Fudosan Holdings Group, we will accelerate our efforts to create Group synergies and implement specific measures to achieve the new management vision we have formulated, specifically "Challenge and Evolution. Then, we will become a company that continues to be appreciated the most by local residents."
The four years from 2017 to 2020 will be the second stage of "Value Frontier 2020." To develop a vision for the future, while constantly seeking out new challenges and evolving, we ourselves have to be above all a strong and vibrant organization. Since last year, we have been practice "healthy management," which focuses on the health of employees, and working on "work style reforms" in a company-wide initiative based on our belief that work-friendly environments and job satisfaction for individual employees is the source of our value. In addition, to remain our reputation among customers and society as "dependable and trustworthy Tokyu," we will also maintain our focus on bolstering our corporate governance and compliance.
To become a corporate group that will continue to be appreciated by local residents through the creation of original, distinctive towns, we will continue to actively convey our ideas about new ways of living, new ways of working and new ways of spending time.
President
Yuji Okuma