Greater Shibuya
We positioned the Greater Shibuya Area, which includes our home turf of Shibuya, and the surrounding areas as our main priority areas for broader urban development.
Secure the No. 1 position through development
that connects the "dots" on the "blueprints."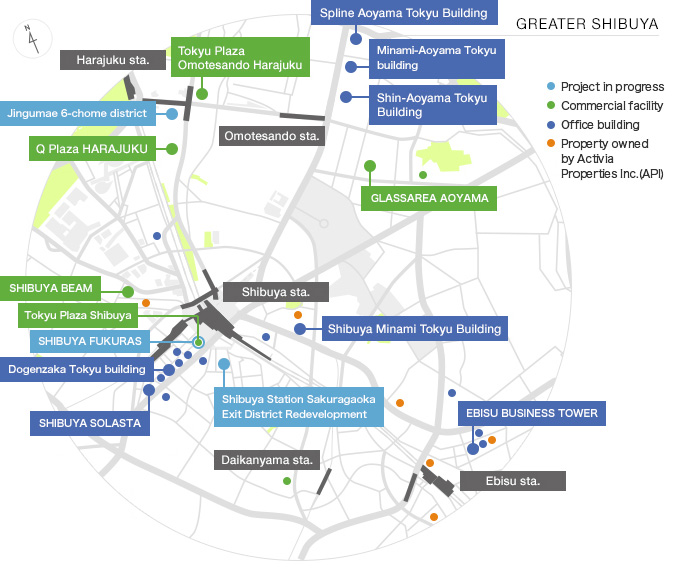 The area around Shibuya, where we have been headquartered for many years, is surrounded by highly distinctive towns such as Aoyama, Omotesando, Harajuku, Ebisu, and Daikanyama that are connected in a complex manner. The unique nature of these towns is the greatest appeal of Shibuya, which boasts a visible presence as a town that continues to generate new cultures.
We have designated the general area centering on Shibuya Station as Greater Shibuya, and have positioned it as a priority area for our urban development. We believe that the redevelopment projects conduced around Shibuya Station, which will be completed by 2020, will not only increase the mobility of people around the station, but also enable the smooth movement of people in the general area, thereby accelerating the expansion of town. In addition to these redevelopment projects, we are developing office buildings and commercial facilities to revitalize the area.
We will create a town that captivates many people with attractive, high value-added content through the urban development of the general area around Shibuya Station. Ultimately, our goal is to secure the leading position in Greater Shibuya.
Redevelopment Projects
Rendering

Shibuya Station Sakuragaoka Exit District Redevelopment

Sakuragaoka-cho, Shibuya-ku, Tokyo
District A: B4F-37F
District B: B2F-32F
District C: 4F
FY2023 (tentative)
Rendering

Jingumae 6-chome
Exit District RedevelopmentJingumae, Shibuya-ku, Tokyo
B3F-10F
FY2022 (tentative)
SHIBUYA FUKURAS

Dogenzaka, Shibuya-ku, Tokyo
B4F-18F
2019 Autumn
Commercial Facilities
Tokyu Plaza Shibuya

Dogenzaka, Shibuya-ku, Tokyo
In Shibuya Fukurasu
December 2019
Q Plaza HARAJUKU

Jingumae, Shibuya-ku, Tokyo
B2F-11F and other facilities
March 2015
Tokyu Plaza Omotesando Harajuku

Jingumae, Shibuya-ku, Tokyo
B2F-7F
April 2012
Office Buildings
SHIBUYA SOLASTA

Dogenzaka, Shibuya-ku, Tokyo
B1F-21F
March 2019
Shin-Aoyama Tokyu Building

Minami Aoyama, Minato-ku, Tokyo
B1F-11F
January 2015
Spline Aoyama Tokyu Building

Minami Aoyama, Minato-ku, Tokyo
B2F-BF
June 2012