Greater Shibuya Area Concept
In the Greater Shibuya Area around Shibuya Station, we are proceeding with a project under the Greater Shibuya Area Concept, which is aimed at sustainably improving the value of the area as a whole from long-term perspective. We are working to develop the area utilizing the many amenities of Shibuya from the standpoints of urban development and local branding.
The Greater Shibuya Area, A Hub for the Area's Varied Amenities
In addition to being our home base, the Shibuya area is connected to the unique character of Aoyama, Omotesando, Harajuku, Ebisu, Daikanyama, and other areas in a complex way, and it is an attractive area that encompasses various urban functions for work, play, education, relaxation, creation, and more. We have established the greater Shibuya area, encompassing the entire area centered around Shibuya Station, and have set it as a point of priority for the Group.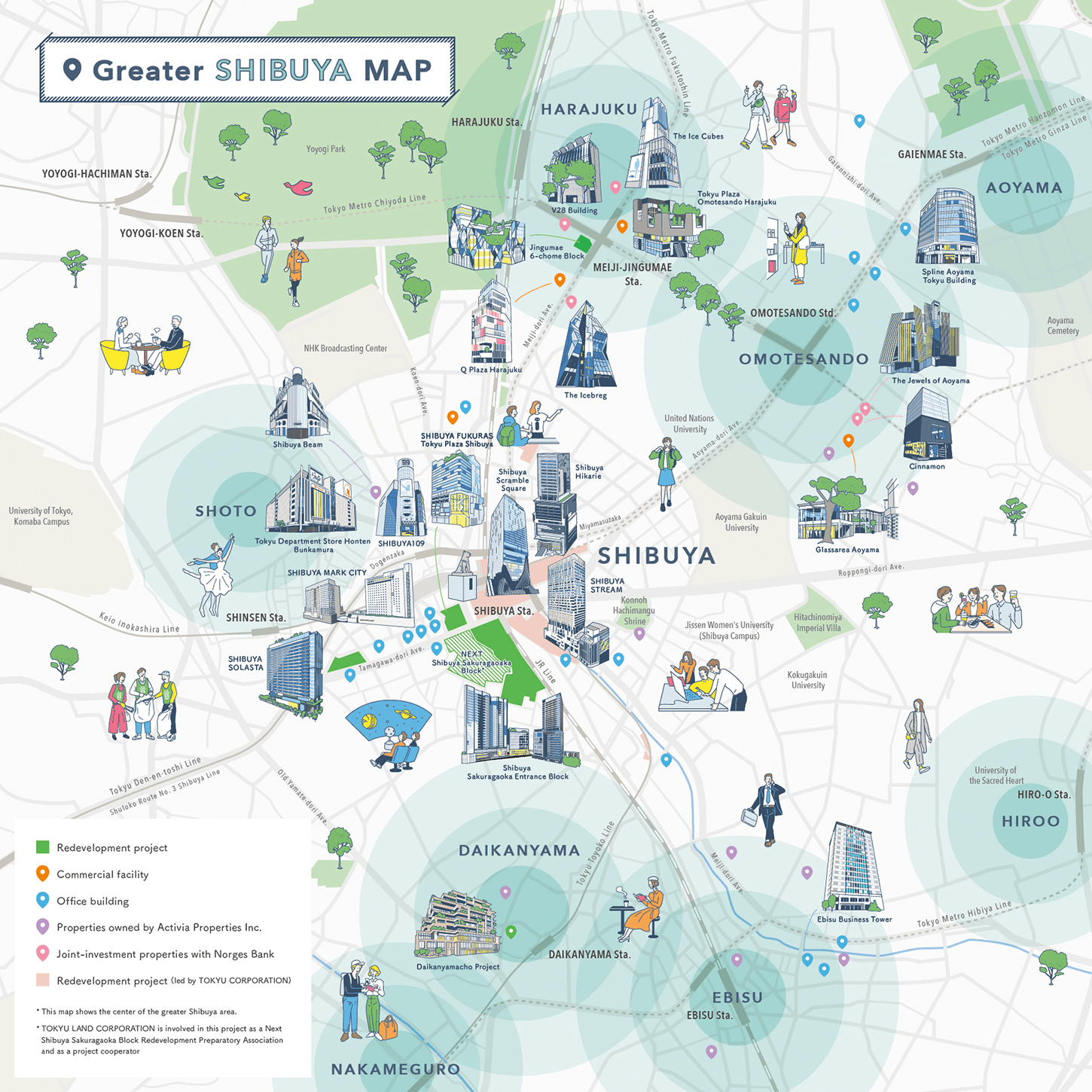 Urban Development
Large-scale redevelopment is taking place in the area around Shibuya Station, said to be a once-in-a-century undertaking. In addition to redevelopment projects meant to increase accessibility around the station, we have developed and also operate a variety of commercial facilities and office buildings in the greater Shibuya area, contributing to improvements in the area's international competitiveness.
Redevelopment Projects
Rendering

Jingumae 6-chome
Exit District RedevelopmentJingumae, Shibuya-ku, Tokyo
B3F-10F
FY2022 (tentative)
Rendering

Shibuya Station Sakuragaoka Exit District Redevelopment

Sakuragaoka-cho, Shibuya-ku, Tokyo
District A: B4F-37F
District B: B2F-32F
District C: 4F
FY2023 (tentative)
SHIBUYA FUKURAS

Dogenzaka, Shibuya-ku, Tokyo
B4F-18F
2019 Autumn
Japanese version only.
Commercial Facilities
Tokyu Plaza Shibuya

Dogenzaka, Shibuya-ku, Tokyo
In Shibuya Fukurasu
December 2019
Q Plaza HARAJUKU

Jingumae, Shibuya-ku, Tokyo
B2F-11F and other facilities
March 2015
Tokyu Plaza Omotesando Harajuku

Jingumae, Shibuya-ku, Tokyo
B2F-7F
April 2012
Office Buildings
SHIBUYA SOLASTA

Dogenzaka, Shibuya-ku, Tokyo
B1F-21F
March 2019
Shin-Aoyama Tokyu Building

Minami Aoyama, Minato-ku, Tokyo
B1F-11F
January 2015
Spline Aoyama Tokyu Building

Minami Aoyama, Minato-ku, Tokyo
B2F-BF
June 2012
Local Branding
Through urban development as part of the Tokyu Group, we are working to realize the Entertainment City Shibuya concept, and are developing local branding to increase the allure of the city through startup support, cooperation with leaders involved in Shibuya, area management, and other activities based on the concept of sharing the future with everyone.
Startup Support
We have developed collaborative startup facilities for innovation creation to further increase the allure of Shibuya, an area that attracts many entrepreneurs. We are continuing our initiatives towards the development of a startup ecosystem through the formation of a support community for startups and the backing of this cooperation.
Creating a City that Fosters Connections
We aim to create a city where startups can grow by forming a community of entrepreneurs in collaboration with venture capital, accelerators, etc., and we are developing collaborative startup facilities, including Plug and Play Shibuya powered by TOKYU LAND CORPORATION and the GUILD series of facilities.
Japanese version only.
Area Management
We actively participate as an office of the Shibuya Ekimae Area Management Foundation, working to create charm in Shibuya through public-private cooperation based on a theme of "making Shibuya move with a playful spirit". We also participate and cooperate in a wide range of local activities, including local festivals, volunteer garbage cleanup, and other events, promoting initiatives to enhance the area.
Shibuya Countdown Event
Since 2016, the Shibuya Ekimae Area Management Foundation has developed YOU MAKE SHIBUYA COUNTDOWN together with Shibuya City and the local merchant's association as an initiative to safely and securely allow visitors to welcome in the new year.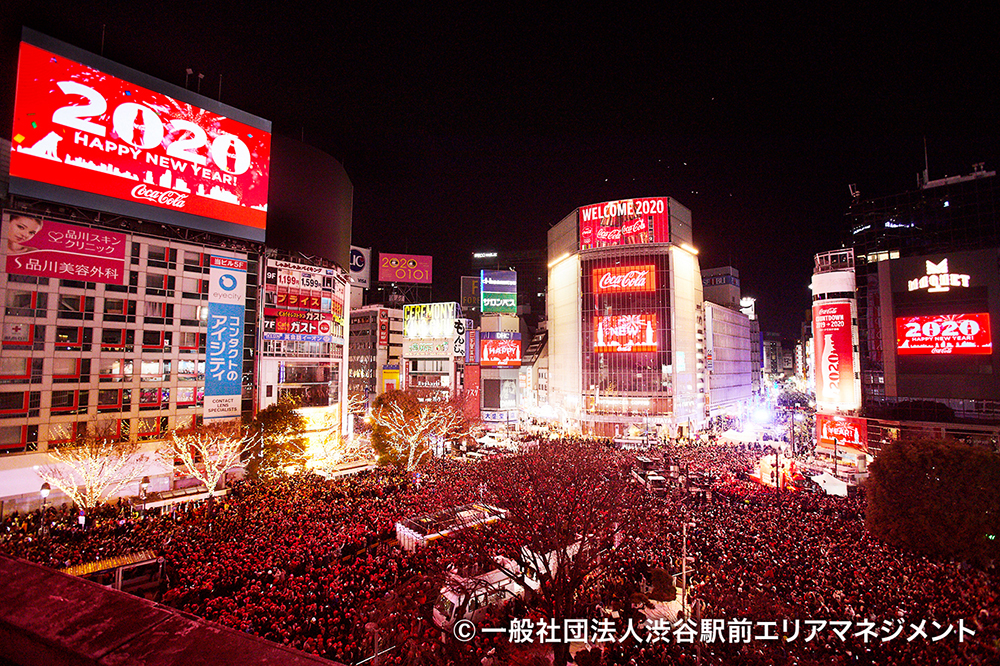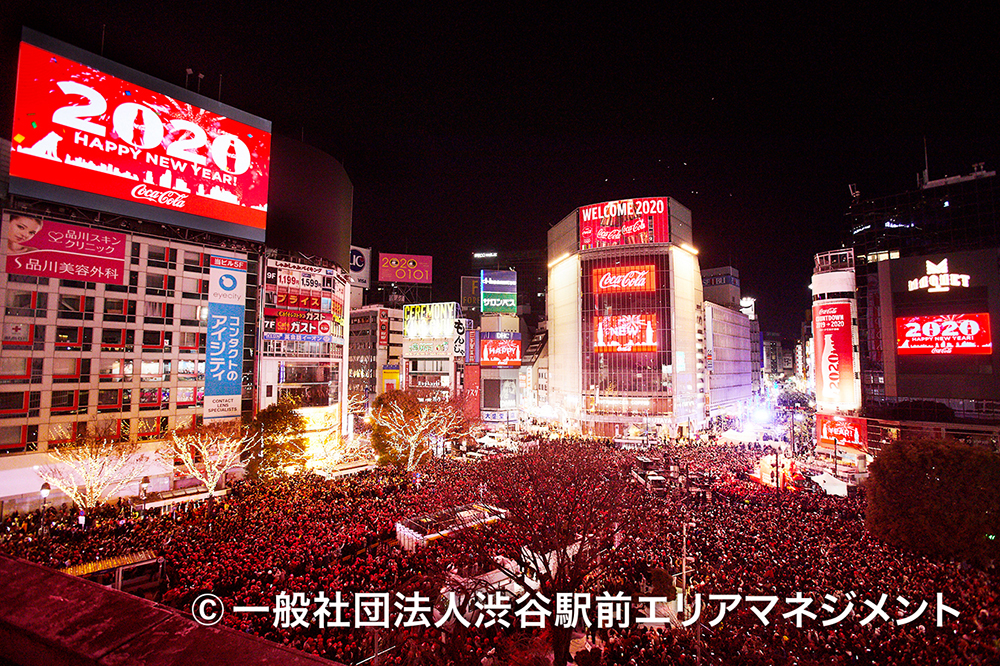 Garbage Cleanup Initiatives
We host regular volunteer garbage cleanup activities before going offices in cooperation with a variety of partners, including employees, local residents, neighborhood workers, and entrepreneurs.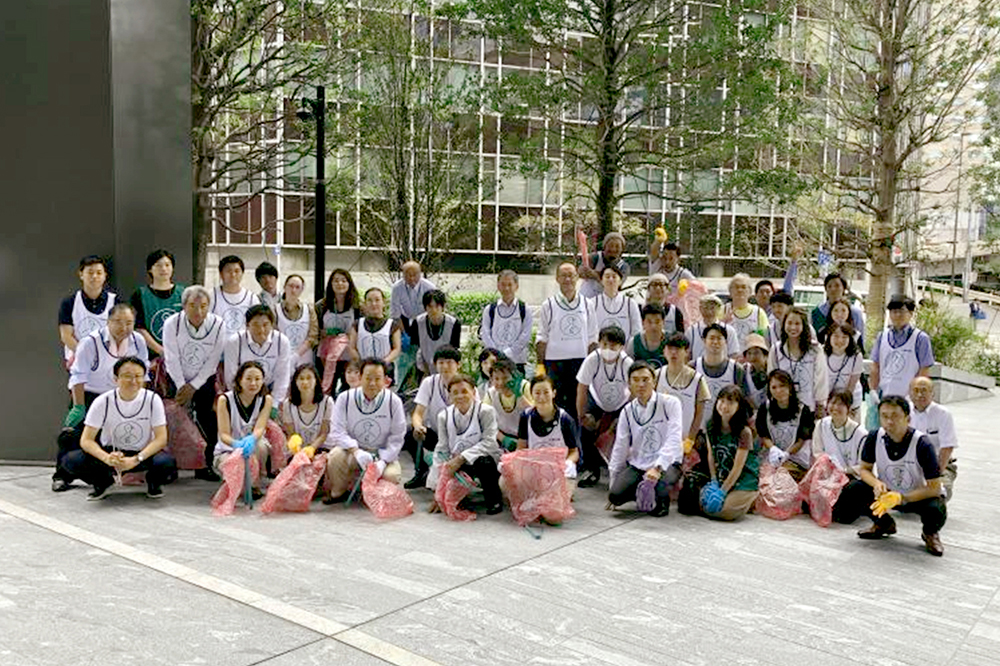 Japanese version only.