Condominiums
Since the 1950's, we have been building houses for sale that are loved by our customers for a long time. Currently, we are developing the BRANZ brand, which was launched in 2006, and the MAJES brand of high-renovation condominiums, and promoting the creation of high-quality homes that meet the needs of the times, including the declining birthrate and aging population, diversification of lifestyles, and the pursuit of environmental initiatives and sustainability. We are promoting the creation of high-quality homes that meet the needs of the times, such as the declining birthrate and aging population, diversifying lifestyles, and pursuing environmental initiatives and sustainability.
Condominium : BRANZ
BRANZ represents the culmination of the experience and knowledge in complex housing that we have developed at Tokyu Land Corporation.
In a certain sense、constructing a building is essentially the creation of a town, cityscape, or landscape that is to be passed on to future generations. It is this awareness that adds to the beauty of the property, and enables it to grow more brilliant with the slow passage of time.
The aim of BRANZ is to ensure the future value of buildings and towns that are filled with true beauty. We strive to keep these residences and assets at the top across the ages. With valuable designs handed down over time and our unique, rigorous quality standards for safety, lifelong use, and comfort, we will continue our uncompromising pursuit of excellence in housing development.
Concept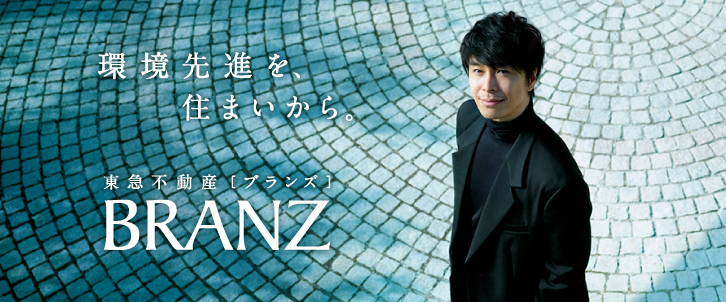 Homes are living spaces.

Changing lifestyles, diversifying values,
and changing global environments.
We are evolving the concept of "living space" so that
we can create happiness that suits individual taste,
no matter the era.

This is because green homes are loved not only by
the people who live in them, even decades or hundreds
of years later, but also by people who do not live in them.
BRANZ will continue to change.

Environmental progress, starting with homes.
Highly Renovated Condominium: MAJES
We provide highly renovated condominiums to address the rising demand for used condominiums in popular locations in central Tokyo, creating a clear distinction from normal renovation businesses. We seek to "re-create value," making full use of the expertise we developed through the newly constructed BRANZ condominiums by fully renovating one entire condominium.